CLAY TARGET & SKEET SHOOTING.....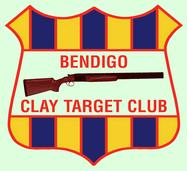 Club Shield
Come along to the Bendigo Clay Target Club and have some fun.... go on - give it a go !
You will receive a friendly welcome, and plenty of help to show you how it is done, believe me it is great fun.
We have youngsters from 12 years of age up that come along regularly and put a lot of us oldies to shame...So if they can do it - so can you !
You can come along for 3 trial sessions without having to join, just have a word with one of the guys and they will point you in the right direction and provide a safety and gun handling briefing.....
Then under instruction and supervision you can have a go and see if you like it. A "round" is 25 shells, and the club can provide these on site at a cost of $10, All you have to do than is to pay for your "clays" at $8 for the round. If you like it you may want to go for more !
So at $18 for an afternoon of friendly conversation, and a round of shooting, $18 is a wonderful deal.
The club has a number of 12-guage, Club Owned "Over & Under" Shotguns that can be used for your session.
Who knows you might like it !, join up, and even become one of our "top Guns" and win all of our prizes.....However there is no obligation....
Refreshments are available in the club rooms, and in general meals are often available for purchase during club competitions
Anyway, if you just want to watch what see goes on and become familiar with the process, why not just come along as a spectator and see what goes on... The club holds practice sessions every Tuesday between 2pm & 6pm, so just roll up.
In addition there are a number of competitions that you might like to watch, so please click on the link to the Club Calendar link/s below:
There are also a number of other links you might have look at which I have also provided:
Australian Clay Target Association
Bendigo Clay Target Club (BCTC)
For further information go the the "Amenities Tab" on this web-site
Contact Details:
Brendan Moroni. Ph 0409 434 512. Email bctc@woodvale.vic.au
Ground located 551 Bendigo-Pyramid Rd, Woodvale, 8km from Eaglehawk.
Come on - Enjoy - Have a Go
-----------------